Violence found me far from the protest ground in my home where I was trying, and failing, to watch movies from my laptop. I was in the police station last week because my uncle deemed it fit for the man who had extorted me, over a simple case of a charging port, to see the insides of a prison wall. This happened an hour after I had solicited his help to force the man who had misplaced my phone's screen to repair it as soon as possible. The next phone call was an invitation to the police station where my uncle had shaken purses with the divisional police officer and satiated his belly enough to slot my complaint in the VIPs' file. There I stood while my uncle rewrote my reality, leaving no spaces for me to breathe through the misleads. There I was in the police cell, standing behind my uncle as his lips jeered and his eyebrows folded, almost forgetting that I had just begun writing a novel about the exploitation of the civil force by the privileged. There I stood, a witness of my own hypocrisy. Perhaps it was my fault for taking the laws into my uncle's purse. Or was it the engineer's carelessness and reluctance to apologise for misplacing my phone's screen and refusing to give an assurance on when I could receive my device? At the end of the day, my uncle's purse brought me the same justice that would have evaded me if I had walked into the police station alone. In that office, where my uncle spoke and the divisional police officer drank, I stood, gulping the droplets of power that fell beside me and closed my eyes imagining red wine vanishing on my tongue. I did not feel guilty about the sands of power gathering in my hands. Instead I felt for a moment what these police men felt when they hovered the roads, prowling around ordinary helpless citizens and snorting out life from the unnamed at the back of vans during lawful interrogations. I say this in the way the servant of a master would consider himself superior to other servants after having dinner once with his lord. And I do wonder, perhaps, if this is how the police officers feel when they watch their superiors defy the laws that bind them and evade the responsibilities that comes with punishment. Do they sit behind other influenced men and watch them gulp red wine and misquote truth and defy the conscience of destiny in determining the fate of ordinary individuals in their absence?
That night, I couldn't sleep. The events of the day kept me awake and I threw my attention into the warm cushions of nostalgia. I remember the days when I was innocent, when I threw my voice on social media to condemn the new police law that permitted them to arrest and detain people based on the sole sentiment of "suspect." I wrote long essays and poems on how the rogue anti-robbery squad, SARS, were killing the youths that the Coronavirus pandemic had spared. I defied the hiccups of distance and trekked to the toll gate and raised my voice with my brothers and sisters in defiance of the institutional oppression that was more ruthless than cancer. When was it? When I walked hand in hand in unity with the ordinary men and lambasted the social crisis that had immersed its torture into our consciousness. Those were the days when hypocrisy spelt doom, but I was not a victim yet. When the protest began, it was not more than a rebellion against police brutality. Earlier in May 2020, we had seen in the US, Derek Chauvin, a white police man kneel on the neck of a black man, George Floyd, until he died. We saw how Americans coughed and the country shivered intensely. We understood the power of revolt, but we forgot to measure our action based on the sentiment of democracy that, apparently, our country lacked. In October 2020, the whole country stood still when we showed just how loud we could roar. The faces on television and the ones on the streets all sang the same song; the ones driving and the ones walking headed towards the same directions. At Ikeja, we shared meals and courage; at Lekki, we had defiance and exuberance. We had the arrogance of newly-crowned royals. Birthed in the silence of the mediocrity, we sought to demand for change by holding our leaders by the crotch. From the mountains in Abeokuta to the rocks in Abuja, we sang different songs with one voice. So similar it was to the cliché plot twist in Nollywood movies when the scales fell from the eyes of the bewitched husband. We could see our path to freedom more clearly. How did we settle for injustice and harbour the silence of our parents?  It was the first time that we dared to dream, to hope, to bask in the imagination of a new nation. We danced in our ideas and worshipped our audacity. We had found a voice and we wanted to sing in the highest of notes that defiled their brazenness. A bullet escaped, two bullets damaged our mirage and the third left blood in our tongue, leaving behind an immortal aftertaste of freedom and death. In the end, the ones who gained true freedom were the ones who died.
When I think of those days, I wonder how life came at me so fast that I leaned on the institution I had disowned, standing on the same spot I had spat. But this was not the first time I had stumbled upon hypocrisy. Did I not see fundamental human right become an option in the days freedom could have been mandated? Did the press and the news network not echo the lies of our governors and paint a façade that we did not recognise? Was I more dazed when they called us violent and labelled us architects of Nigeria's disunity? We were not the ones littering the south west with sorrow, tears and cow dung. We were not kidnapping people from their hut and leaving behind a desecrated flash of burnt village and smoky carcass. The aged who had stood silent in their time when mediocrity thrived accused us of being disrespectful and abandoning the ways of peaceful discourse. People were shot at gun point at Surulere, sons were killed in Ibadan and we lost souls and properties in Jos. If I close my eyes long enough, I can hear the laughter of the new friends I made on the war front when I was still a soldier fighting the war for freewill: ordinary men and women like me who had seen that life had no blunt edges. That was when I realised that the protest was more than a defiance against police brutality. It meant more than a single defiance to a single body, it was a fight to all and for all. The lady whose pastor slept with her before she had hair on her armpit did not have her sword pointed at the police. The boy whose education developed hiccups because his father's pension came many years late came hand in hand with the man whose wife died in the hospital because the doctors did not want to treat a gunshot wound without a police report. The two men holding hands and flashing a rainbow painted cardboard did not come to protest because of the same reason as I. There were a thousand people and more thousand stories gathered and fighting for the right to live free and well because the country kept on denying them the happiness they demanded. We tabled the trends on Twitter. The bird app gave us the space to tell the whole world that we enjoyed the same privilege of oppression like every other African country. Rwandans were dying from cobalt, and democracy in Mali was still in hiding after the recent coup. For those who couldn't come to the war front, the "keyboard warriors," they recorded our battles and kept the world abreast with the truth that the media was reinterpreting.
I grew up in a house that had holes in the walls outside the compound. Every night, we rested with the insects that stayed awake in those holes during the day. I grew up scared of lizards and so I went for the lower animals. I would light a broom on fire, stick it into the holes and kill the ants as they ran outside for safety. I never wondered how it must have felt for the ants to feel trapped in their own home and get killed while seeking shelter. I understood that feeling days after when I saw protesters gunned down at Lekki toll gate. I have seen pictures of the Nigerian civil war and the children with big stomachs, sunken eyes, charred lips and heads so big they swayed ever so carelessly even when the children were still. There was always dirt curled up in the scanty hair on their heads, and their eyes were swollen from too much crying. Never had I seen these pictures and held a breath or hold a sigh of compassion. They always felt so distant, so in the past, unfamiliar and even strange, and I never felt as much emotion as I should apart from the fleeting anger directed at the human folly of choosing ignorance over peace. But on the 20th of October, when my hands quivered from watching the live execution take place, I came face to face with horror. I could hear the gun shots on my doorsteps and the screams came through my walls and underneath my feet. I had never felt so stuck in a particular time where I felt so helpless watching an event that I couldn't control. Of course I knew that Lagos had ordered a curfew to limit the movement of protesters, and I saw images of men taking out security cameras in Lekki, but I never thought for once that the government would grant its citizen the response it had failed to deliver to terrorists. Like all revolutions seeking allies, the world moved on when we died. There were threats and sanctions and even a legal panel held to address the issues that people had died for. I would refer to these actions, particularly the panel, as "the cultural dance of pacification," in Nigeria where the victims are presented with a myriad of peace that disappeared with time. For days, we sang the eulogies of the soldiers who had died at the war front of democracy. We flagged their pictures on social media, behind locked doors. For those whose fingers had stopped quivering, they pushed their demands on social media. Retributions were pledged, justice was demanded and we went around the cultural dance of Nigeria's pacification again. Nigeria burned. Soldiers were deployed into the streets to restore calm. In Lagos, hoodlums attacked police stations and left behind carcasses of unrecognisable men on police uniforms. Soldiers shot at anything that moved or dare to come out. Shootouts were sporadic and rumours thrived, propelling fear to move through the walls. Those were the days when we slept with open eyes and woke up to the world around us burning. The battle had ended, but the looting raged on. There was a man on Twitter who voiced out his anguish 'Nigeria will not be the end of me' The man died. Hours after he had gone online, he ended the day adding himself to the numbers that Nigeria had failed and slaughtered.
After war comes the question of blame. The government evaded responsibility and stated boldly that the Lekki massacre did not happen. What we saw was a manipulation of pictures. I will not burden you with the theatrics of the legal counsel that was set up to investigate this event, neither will I make fun of your intelligence by pointing out the evidence that the government had against its people. When federal Ministers became Sherlocks, the government laughed at us and mocked our powerlessness. If there was another definition to these actions, I did not feel it, and I still do not see it differently. I saw it when the State Security Service desecrated the essence of a law court and arrested Omoyele Sowore during his trial last year. I read about the Odi Massacre in Social Studies but never had I felt so close to terror as the past year. The EndSARS panel set up by the government was only successful in trading experience and gossips about police brutality, and when they felt enough time had passed for the citizens to bury their heads in another distraction, they decided to reopen the Lekki toll gate. They would not have anticipated our return to the battle field. I am beginning to unlearn a lot of things that I have been taught. If the press could misinform at times like these, I wonder how many lies we must have read in our history books. How many facts have we inhaled and how many consciences have we stepped on? One does not crawl through experiences like these and harbour no sentiments against the society that has abandoned one.
Last week, a neighbour of mine had a tussle with a cultist who lived on my street. He kept it to himself until evening when a hoard of boys came to look for him. Finding his apartment empty, they decided to tear down every room in the house to give him a tip of what to expect when they caught up with him. I was watching a movie on my laptop when I felt the sharp sting of a knife on my lap and a blow close to my ears that left me temporarily deaf. Barely seconds after they had left, I called my uncle and asked him if I could spend the night at his place so that I would avoid any further attack if the attackers returned. I stood alone in my home, trying to pick up the pieces of my TV screen and rearrange the chairs that had been thrown upside down. It was then that my uncle called. I could tell his eye brows were furrowed and his nose flared as he spoke, and I heard the familiar chuckle of the district police officer speaking and swallowing wine at the same time. I had been ordered to come to the police station, again, to file a report against the cult boys who had tried to kill me "because I refused to get initiated." I was born in Nigeria, I was born into violence, I was born into a round peg of many tribes trying to fit into a square hole of unity. And so, whether I am on the protest ground, or far at home, trying to repaint my reality with the moving pictures on my laptop screen, it seems that violence, like someone who knows me by name, will always find me.
---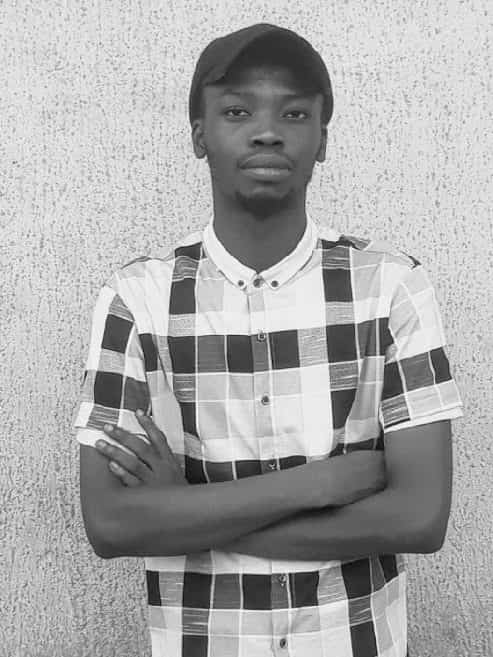 Festus Obehi Destiny
is a student of English in the University of Lagos and an author of four short story projects. He lives in Lagos and works as a freelance writer. Since his debut collection in 2019, Obehi has carefully shown how literature can be used to showcase the political, moral, and cultural issues that are prevalent in African societies.