Leila Aboulela is the author of five novels, Bird Summons, The Translator, a New York Times 100 Notable Books of the Year; The Kindness of Enemies, Minaret, and Lyrics Alley, Fiction Winner of the Scottish Book Awards.  She was the first winner of the Caine Prize for African Writing, and her latest story collection, Elsewhere, Home won the Saltire Fiction Book of the Year Award. Leila's work has been translated into fifteen languages, and she was long-listed three times for the Orange Prize (now the Women's Prize for Fiction). Her plays, The Insider, The Mystic Life, and others were broadcast on BBC Radio, and her fiction included in publications such as Freeman's, Granta and Harper's Magazine. Leila was born in Cairo, grew up in Khartoum and moved in her mid-twenties to Aberdeen. She is Honorary President of SSSUK-the Society for the Studies of the Sudans, UK, and a trustee of Jalada, a pan-African writers' collective. Her sixth novel, River Spirit, is due for publication in 2023.
---
How was growing up in Sudan like for you?
I grew up in Khartoum and lived there until my mid-twenties. I graduated from university, got married and had a baby – so it was a full life, and I am, in many ways, defined by it. It was a privileged upbringing, and I moved between the Egyptian culture of my mother, my father's Sudanese culture, and the strangeness of being one of very few Sudanese children in an American primary school. In some ways, life was like a novel with characters larger than life and dramatic, unexpected events – or so it felt to me. There were unsuccessful military coups in the 1970s, and the overthrow of President Nimeri in 1985. I spent a lot of time outdoors as there were hardly any air conditioning at the time. Social events, including poetry readings and political talks were all held outdoors. We all slept outdoors throughout most of the year. This was one of the greatest privileges, to gaze up at the night sky, commune with it in a way, night after night, month after month. Although some of my memories are fading, the sensations of the Sudanese outdoors remain vivid.
Your short story, "The Museum," won the first edition of the Caine Prize for African Writing (now the AKO Caine Prize) in 2000. You had published your first novel, The Translator, to critical acclaim in 1999, a year before. What did this win do for you?
It speeded up and galvanised my progress. My collection of short stories, Coloured Lights (which included The Museum) was quickly published. Heinemann African Writers brought out an edition of The Translator, and my second novel, Minaret was picked up by publishers in London and New York (whereas The Translator had been published by a small press in Scotland).
These were the tangible benefits of the prize. In addition, there was the publicity and the endorsement/acknowledgement of my abilities. This was a huge boost to my confidence. I started to feel that, with regards to my writing, I was standing on solid ground.
It has been twenty-three years after your Caine Prize victory. A lot of African writers have passed through this Caine Prize tunnel to spotlight in the literary world. Meron Hadero won last year with her "The Street Sweep." Would you say the Caine Prize has lived, still lives, up to its inceptive mission? Has there been a rise, perhaps a decline?
It is possible to assess a prize by its judges over the years. They are the ones who read the entries carefully and discuss them. Their tastes and their evaluations lead to the choice of winners. Here are some of the judges of the Caine Prize over the years – a breathtaking, star-studded cast of names: Abdulrazak Gurnah, JM Coetzee, Ben Okri, Buchi Emecheta, Ahdaf Soueif, Hisham Matar, Aminatta Forna, Margaret Busby, Bernardine Evaristo, Jackie Kay, Jamal Mahjoub, James Murua, Goretti Kyomuhendo, Sefi Atta, Lola Shoneyin, Peter Kimani, Dinaw Mengestu, Nii Ayikwei Parkes, Zoe Wicomb, and Ellah Wakatama. The prize is indeed living and thriving. If the winning writers are struggling in the publishing marketplace, then this is due to structural issues and not the prize itself. The prize is successful in putting forward excellent writers. Unfortunately, the publishing infrastructure in Africa is still not robust, and African writers are still dependent on Western publishers who have their own tastes and perceptions of what sells in their markets and what doesn't. In the case of the Booker Prize, and the Women's Prize for Fiction, which result in huge sales for the winning book, the judges' panels are made up of individuals demographically indistinguishable from editors, agents and booksellers. This is not the case with the Caine Prize because of the inherent inequalities in the publishing ecosystem.
You have a strong Muslim background, and your work mostly centres around Islamic spirituality and religion. What is your reason for this?
From my earliest encounter, I was always conscious that Western literature was Christian-centric. It is, of course, Euro-centric, white-centric – but also what struck me was the absence of a Muslim reality. It felt like a void to me, and when I started to write, I wanted, consciously, to put Islam in fiction. This was my way of adding something new, bringing an added, different perspective to literature. Writers are drawn to write about what fascinates them, and I am fascinated by religious faith and practice. I am especially fascinated by religious practice within a secular society.
Why Literature? Had you ever set out to be something different?
I trained as a statistician before I started writing. I graduated with an Economics degree, specialising in Statistics from the University of Khartoum, and then I got an MSc and an MPhil in Statistics from the London School of Economics. I was teaching Statistics in Aberdeen when I first started writing. I started to gravitate more towards writing, and with the responsibility of children, I began to feel that I had to give up one of the other. I choose to give up on the Stats. Financially, this was not prudent, but my writing took off, and I never looked back or felt regret.
You have once mentioned Ben Okri and Abdulrazak Gurnah as strong literary influences. What other living writer of African descent has been your major inspiration?
I read Tayeb Salih's Season of Migration to the North when I was very young, and I was put off by the violence towards women. After reading Fanon in university, Nawal El Saadawi and Edward Said, I gained a better understanding of Season of Migration, and grew to love its imagery and lyrical language. Naguib Mahfouz was also a writer whose work was prevalent doing my upbringing through novels and Egyptian film adaptations. He was also a strong literary influence specially with regards to writing about complex family situations.
When I immigrated to Britain, Buchi Emecheta's work resonated deeply with me, especially her novel, Second Class Citizen. I encountered Adhaf Soueif's work when I was starting to write. Her short story, 1964, and her novel, In the Eye of the Sun, left a lasting impression on my work.
You had once mentioned in an interview that you chose English as the language of your writing, even though you have a mastery of Arabic. What does language mean for you? Is there plan for original writing in Arabic?
My mother tongue is Egyptian colloquial Arabic, which is a spoken rather than written dialect. Writing in Arabic means writing in classical Arabic. I can easily read classical Arabic, especially Islamic texts, but my writing skills are considerably weaker. This is because throughout my whole education, English was the language I used. So in a way, when I came to writing, there was no choice. It was either to write in English or not at all. I have no plans for writing in Arabic. I do however, work very closely with my Arabic translators. I read the translated manuscript thoroughly, and I go over it, making extensive changes. I have strong opinions on how I want to sound in Arabic. Sometimes in my own writing, especially with dialogue, I would have 'heard' the characters speak in Arabic and then translated/wrote their words in English. When working on the Arabic translation, I am very keen to render such dialogue back to how 'originally' I had heard it.
What advice would you have given your younger writer self?
The advice that becoming a writer is not all sitting comfortably at home writing. One needs to engage with the literary establishment, write reviews and articles, make connections, take part, contribute to the current discussions, be active in the publishing eco-system. It took me a long time to learn this, and I was slow in embracing social media. Perhaps this was due to lack of confidence. Maybe a literature degree or a creative writing degree would have better prepared and grounded me. I often did toy with the idea of getting a degree, but then changed my mind. I don't think a literature/writing degree would have necessarily improved my writing – but it could have helped with the skills necessary to participate in non-writing activities.
After Bird Summons (2019), what next?
My new novel, River Spirit, is due for publication in spring 2023. It is set in nineteenth century Sudan when the Mahdist revolution brought an end to Ottoman Rule and paved the way for the brutal British invasion of 1898. The siege of Khartoum and the death of General Charles Gordon has been depicted in many books and films (notably the film, Khartoum, where Charlton Heston played Gordon, and Lawrence Olivier, in blackface, was the Sudanese Mahdi). My novel is a re-telling of this history from an African perspective and with a focus on Sudanese women.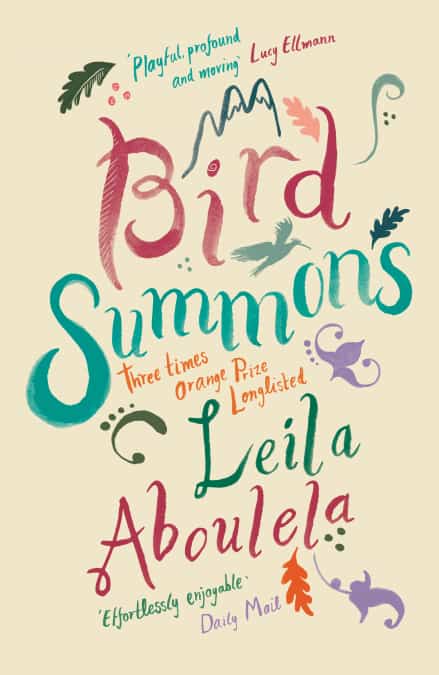 What book are you currently reading?
Take My Hand by Dolen Perkins-Valdez. It is a novel inspired by the shocking 1970s real-life case of two sisters in Alabama, aged twelve and fourteen, who were sterilised without consent. An example of government-sanctioned racism and discrimination against poor, black children – very vivid and sad.