I knocked on the door too softly, almost reluctantly. My mind was miles away.
"Who's that who knocks like they are on their death bed? When last did you eat a full plate of sadza?" she said in her usual sour tone.
"It's me," I responded, my voice squeaky. I wasn't scared of her today. I didn't care much about anything in that moment.
"Who is you? You don't have a name? Are you the Headmaster of this school? Say your name or get away from my door."
"Mukudzei."
"Which Mukudzei? I more interested in your father's name not yours."
"Mukudzei Maphosa."
Pause.
"Oh…come in," she said, her voice suddenly benign.
She gestured for me to take a seat on a worn-out couch in the corner of the room. She opened one of the drawers of the inbuilt cabinet and retrieved a bunch of white papers. She rummaged through them and then selected one which she looked at intently for a moment.
"Here is your slip, I'm sorry," she said.
After putting some distance between me and the school, I retrieved the slip, white and intimidatingly crisp. I took a glance at it. I wasn't surprised. I had failed my O'level examinations, but by no apparent fault of mine.
***
The first time we visited him, he looked thinner but healthy and upbeat, slightly better than how he looked in remand. He had been sentenced to five years in prison and he told us he could get out in two years. Devastated by the court ruling, my mum had wept like a child soon after the pronouncement, in the full glare of the tabloid cameras. I didn't cry. I tried to, but tears couldn't come. However, soon after the sentence was passed, I felt a vicious thud in my head, like a bullet had pierced my skull, and my head ached every night since then. We didn't take Tawana, my young sister, to court. We agreed that she was too young to know what was really taking place, that the official lie to her would be that Dad had gone to South Africa on a long work assignment. We hoped to reveal the truth to her when the time was right. All hell broke loose however when Tawana got involved in an altercation with another pupil at school, and according to the teacher, the child had blurted that her father was a criminal rotting in jail. The teacher had brought an inconsolable Tawana back home. We had no option but to tell her the truth.
"It's not like he did it, Tawana. He is just being accused. You know your dad isn't a criminal," mother said to her in an overly placatory tone when the three of us sat in the lounge.
"But why did you lie to me? Why did you say he was in South Africa? It's not fair," she said, glowering at Mother and I, tears streaming down her small, oval face.
"We would have told you with time, mwanangu," Mother said, looking at me with eyes that begged me to intervene. I looked away. I didn't have the words.
"It's not fair at all. It's not fair," she repeated, her small, thin hands trembling with righteous indignation.
***
The second time we visited Dad, he was no longer in high spirits. He kept complaining about the jail conditions.
"Mai Muku, they give us sadza and overcooked beans without oil and salt."
"Are you keeping strong?" Mother asked. He nodded weakly.
"And that's on the good days. Sometimes they forget to give us anything at all," he said, his tortured eyes looking wistfully into the middle distance.
"That's so cruel," Mother said, her voice cracking.
"And we sleep on the cold concrete, under very thin blankets. Thinner than those red table cloths at home, Mai Muku."
"Can I bring you a blanket, Museyamwa? Will they allow me?" she said, her voice choking with tears.
"No, they will not allow that. They hardly allow people to bring in food. Blankets are a non-starter." He heaved a sigh.
I noticed a gash on his thigh under his threadbare khaki prison shorts. A rotund prison guard who had the self-indulgent, temperamental look of a Rottweiler on leash kept looking in our direction as if communicating some message to Dad.
***
The third time we visited him, he had a disturbing cough that contorted his face each time. He seemed surprised to see me. Mother wanted to leave me behind, but I had violently insisted. He then looked vacantly into space like a monk doing some half-hearted meditations before he spoke in a hush. Mother broke into tears. This time I couldn't hold back mine. He didn't bother to comfort us. He didn't ask about his beloved daughter, which was very surprising, since she was so close to his heart.
***
My uncle, dad's younger brother, came one evening with the soldier. It was my first time seeing the soldier since Dad was arrested. The soldier seemed to melt into the darkness of the room, silent as the night.
"Put on warm clothes," my uncle said in a voice barely above a whisper.
"Kwakanaka here, Shava? Is everything alright?" Granny asked, her voice shaking, different.
"Ah, zvinorema izvi, Amai. It's hard to bear, mother," uncle replied.
Granny let out a bloodcurdling scream and Mother burst into silent tears. A chill ripped through my body. Tawana cast at us confused and inquisitive looks, but she said nothing. The soldier's face remained inscrutable. We got in the car and drove in silence. When we arrived at the prison about thirty minutes later, the guards escorted us to a small room where his body lay. Dad had overdosed on sleeping tablets. How he had managed to acquire the pills was a mystery. Granny set her eyes up to the heavens as she punched the air repeatedly.
"Mhofu yemukono. What got into you to choose death? What will become of your children, Museyamwa? Who did this to you, Mhofu? Who sent this spirit to you, Mazarura?"
Mother wept silently. Her eyes were swollen and she held her skirt as though holding on to a life-saving source.
***
It was after Dad's arrest that I learnt that he, the soldier who visited, and another man, an intelligence operative, were in an arrangement with some illegal gold miners. Word had it that there were some government officials involved in the deal, too. The trio would get half of the gold in exchange for offering protection to the miners. This meant the miners had power in the area. They could seize gold without repercussions. If they found gold in the middle of your field, by tomorrow morning, you didn't have a field, and you couldn't do anything about it. Even the police steered clear of them. It was then that I learnt of how Dad got the money to buy the farm and renovate the house in such a short time. I struggled to understand what my father's role was. He wasn't a politician, neither was he a businessman or in the security force. What did they need him for? My uncle said I was too young to understand. Mother said she didn't know. The arrangement went well for many months until the Criminal Investigation Department got wind of it, or rather, decided to finally act on it for whatever reason. The trio faced arrest. They had tried to bribe the investigating officer, but he was a stubborn and arrogant man. He laughed off their attempts. They then ambushed him on his way home from work. They dragged him out of his car, took him deep into the jungle and beat him to a pulp. They stripped him of his clothes and left him tied to a tree. He was rescued the next morning, apparently on the verge of death. Although it was resolved that Dad didn't take part in the beating, he was adjudged an accomplice since he took part in the capture. Dad and the soldier were arrested; the intelligence guy disappeared. For some reason, the soldier only made one appearance in court and was let go scot free. Dad was left to face the heat alone.
***
Few weeks ago, I asked Tawana about her plummeting grades. Seven years later, and she had begun to grow breasts the size of little oranges.
"Don't you want to be a lawyer anymore, Tawana? Your History and Literature marks don't look too good," I asked.
"Doesn't matter what I become," she replied with a sardonic smile on her face
"You can still make him proud. He was a good man," I said.
"He left me, Muku. He left us. I don't know how that makes him a good man."
"You know our Dad, Tawana. He loved us…"
She made as if to speak, then decided against it. She stood up and came to where I was. I took her in my arms. She held onto me tightly and sobbed. I felt hope rise that moment. I remembered mother then. In the universe's cruel attempt at being humorous, three years ago, she married the soldier and left us. Maybe, one day, we will be happy again.
---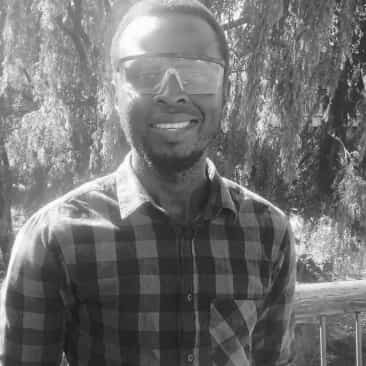 Tinashe Chipenyu
is a Zimbabwean creative writer who's currently based in South Africa. His work has appeared in The Shallow Tales Review, Kalahari Review and African Writer Magazine. When he's not writing or reading, he's watching football, tennis or wildlife documentaries. Twitter: @_Uncle_TJ.