1.
To be Igbo was to be unsophisticated. It was to etch the language of shame on your skin. It was to shudder, gritting your teeth and curling your toes inside your brown cortina shoes as Miss H spoke about Igbo people.
My primary school was a British school washed in English orthodoxy. Miss H was my class teacher. She was cross-eyed and had a stuffed-up chin that looked like mockery. She spoke about Igbo people with disdain, coughing out cackles at intervals. They were a bunch of pepper soup-drinking illiterates. Anambra people were ritualists. Abia people ate human beings. Ebonyi people had empty skulls. Enugu people knew nothing apart from palm wine and Highlife music. She would say these and more I cannot remember now, meandering her tongue to form the "bush Igbo accent," with my non-Igbo classmates giggling. I giggled, though not because I wanted to but because it was all I could do.
To be Igbo was to shapeshift, to lose yourself in a melody that was not yours. You learned to fold your identity gently into your core, clothing yourself with a false one. It was to loathe your identity.
Whenever Miss H gave us compositions as assignments—write about yourself; write a letter to your Uncle, telling him how you spent your last holiday—it became my opportunity to refute my identity. I took on a new name and a distinct identity.
2.
My first identifier is Igbo.
I was born and raised in Lagos, a southwestern part of Nigeria. Growing up, my parents spoke Igbo to us—my siblings and me. While my siblings responded to my parents in Igbo, I responded to them in English because I had slowly started to meld into something un-Igbo, an unsung version of myself. My parents never saw it as a worry; instead, they took heed when I told them to speak only English to me because they thought I had become a product of my sophisticated British primary school. Looking back, I was a boy in need of redemption.
I started reading at six. I had a shelf in my room thronged with books from Enid Blyton and Lewis Carrol and Eric Carle and Jacqueline Woodson and Steve Jenkins. When relatives or family friends yelled at me for not understanding Igbo or not knowing how to speak Igbo, I would flinch and use my honeyed vocabulary to fight them back. I thought they were a bunch of illiterates. How could they wear this identity so proudly? I thought it did not make sense; English made more sense. Igbo songs aggravated me. With a sense of pride, which I think of now as foolishness, I boldly told people we did not go to the village. What were we going to do with uncivilised people?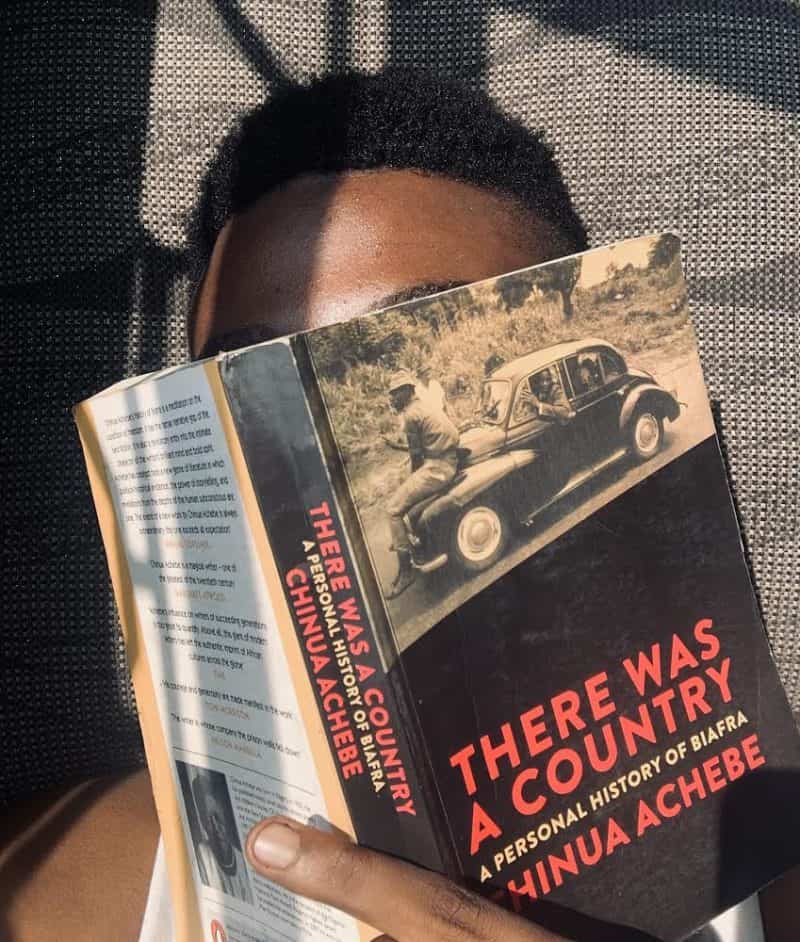 I was born Nzeh Godwin Chinonso, with both my first name, Godwin, and my middle name, Chinonso, interchangeably active in the tongues of my family members and classmates. I took on a new identity in Grade four. The new session came with new uniforms and shoes and exercise books; I inscribed "Nzeh Godwin" on every exercise book, erasing my Igbo name, Chinonso. I could not erase my surname, Nzeh, because it was my surname, and the people in my class who were Igbo had Igbo surnames alongside their posh English names, even some of the biracial Igbo classmates. My name was predominantly Godwin till I left primary school. I would later add in Chinonso when I entered secondary school because my mother had sternly warned me to put it back.
3.
I failed Igbo language in my military secondary school. I wasn't interested in what Mrs. O, the stout Igbo teacher, taught. Even in senior secondary school, I managed to pass, with the help of my father doing my assignments and an ex-classmate opening her answer sheets for me during the exam in exchange for opening my answer sheets during the Literature examination.
I wrote short stories and plays, all of which had no Igbo characters because I did not want to permeate the Igbo identity into my works. I did not want my stories to seem local.
After I had read Purple Hibiscus by Chimamanda Ngozi Adichie in my second year in senior secondary school, my consciousness began, though faint. Was it how carefully carved, with so much depth, the characters were? Was it the setting, the romanticisation of Nsukka? I did not know. But there became something irresistible about the Igbo culture. I would later read Things Fall Apart by Chinua Achebe which explored pre-colonial Igbo history, and Half of a Yellow Sun by Adichie which explored Biafran history, and these books would bolster my interest in Igbo chronicles further.
The loathing started to morph into distant admiration.
4.
Curiosity spurred me into full wakefulness in 2020, during the Coronavirus pandemic, when the world fell silent. Boredom had swept me during that period, and to fight it, I started curating old-skool Igbo songs on Apple Music; I wanted to know what my parents (and people who loved that genre) saw in them.
These songs began to speak to my spirit, revivifying my consciousness. It wasn't that I understood Onyeka Onwenu's Ochie dike. It wasn't that Nelly Uchendu's Love Nwantiti held deep meaning for me at that time. It wasn't that Chimuanya and King Owigiri's Ayakata Bongo or Celestine Ukwu's Flame Tree made so much sense. There was only a feeling of nostalgia weaved firmly in them. The more I listened to them, the more I felt a longing, a string tracing me back to my source. Soon, I began to comprehend and speak the Igbo language.
There is a haul of books on Igbo history and culture on the eight-column shelf in the sitting room; the books have always been on the shelf. Those were the only books I did not read in my childhood and early teens. When my awakening began, I buried myself in those books, hungry to know everything I could about the Igbo identity. They also sparked my interest in Biafran history.
I moved to YouTube, watching Amarachi Attamah, an Igbo spoken-word artist who promotes Igbo culture with her art. I fell in love with her unapologeticness, and in how she used alluring language. On my WhatsApp bio, I would write PROUDLY IGBO, or sometimes, insert an Igbo aphorism. This thing I once hated had become a dignity I wore like regalia.
Nzeh's Igbo playlist
One morning, I woke up and became Chinonso Nzeh. I deleted Godwin from my Instagram name details and my Facebook username. This, for me, was (and still is) liberation. I was no longer Nzeh Godwin (Chinonso). I became Chinonso Nzeh. I had fallen in love with my Igbo name now; had untangled the power it exerted.
5.
During the beginning of my awakening, I read Chigozie Obioma's Orchestra of Minorities, a story exploring the Igbo cosmology, told from the point of view of the protagonist's chi, a personal spirit assigned to a person. There was a transition in my faith, and this was one of the many things that made me deconstruct my Christian belief. Because I wanted to know further, intrigued by what I had read, I started to ask questions, to read books like Ödïnanï: The Igbo Religion by Emmanuel Anizoba; Igbo philosophy by T. Uzodinma Nwala; African Spirituality by Udobata Onunwa; Igbo Traditional Religion: The spirituality and the eschatological character of Igbo traditional charity by Donatus Uroko Agbo, and many others. I started to understand the concept of Chukwu, the genderless supreme being, and chi. I began to unravel the enigma of godhood and Igbo spirituality. It began to make sense to me— this thing I once thought malignant.
I grew up in a moderately conservative Anglican Christian home. In childhood, I watched Nollywood movies that portrayed Igbo spirituality as evil, a thing to rebuke, to relinquish. The church, too, in prayers, never forgot to "burn down ancestral altars." I would take the prayers so seriously, mentally burning the altars and the traditional symbols, sometimes wishing I burned them physically to please the Christian God. In school, Miss H and other teachers taught us that "those things" were an abomination in the sight of God.
6.
Toni Morrison writes:
All water has a perfect memory and is forever trying to get back to where it was.
Earlier, I would say that I was finding myself, but what I think now is that I am returning home to where I belong.
---
Chinonso Nzeh
is first Igbo. His works have been published or are forthcoming in Isele Magazine, Agbowó, Black Boy Review, Ibadan Arts, Evergreen Review, and elsewhere. His writing explores grief, gender, sexuality, queerness, romance, familial relationships, class, politics, and Igbo ontology, amongst other things. He thinks of storytelling as a way to make sense of the world. When he's not writing or reading, he's sleeping; he believes that sleep is the most superior gift nature gave to humankind.